CMPA Central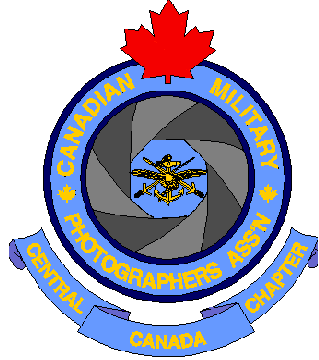 CMPA
The CMPA (Canadian Military Photographers Association) is a voluntary not-for-profit association of members who have served or are serving in the photographic or imaging field in the Army, Navy, Air Force, or the Canadian Forces. The objective of the association is to act as a point of contact for members to get in touch with each other, and to pass on information about members.

From time to time social events are organized to give the opportunity for members to renew old acquaintances or to make new ones.

---
Events
Milfoto Reunions are held every 5 years with the next one scheduled for 21-13 August, 2015 at 8 Wing,Trentonm ON.
A request for volunteers has been issued - Volunteers 2015.
2015 Reunion On-line registrations
2015 Reunion - Inscriptions en ligne


BBQ
2012 English PDF 2012 Français PDF
The 1st "Milƒoto BBQ" was help on Saturday June 2nd, 2012 from 1100-1700 hrs at the Orleans Legion. It was enjoyed by all and we hope it will become an annual event.

Email : Milfoto.info@gmail.com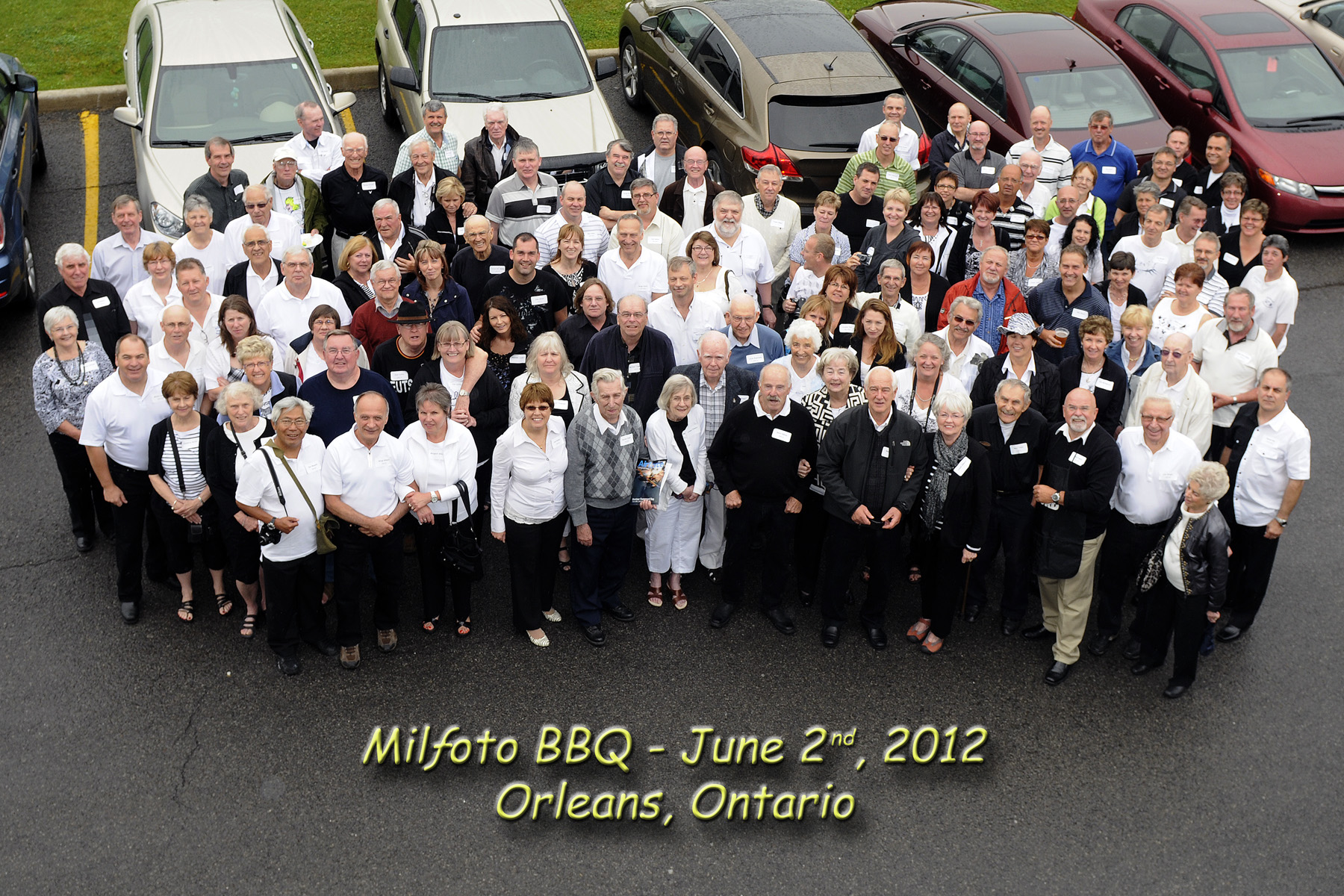 ---
Old Renunions
Reunion 2010

Milfoto Reunion 2010 is planned for Trenton, ON, August 20 to 22, 2010. The website giving information is at this link.
Tourist information links have been provided below to Quinte West (Trenton), Bellevile, and The Bay of Quinte.
Reunion 2005
A photo tour of the weekend has been put on the web at Reunion 2005. Take the tour and enjoy the reminders of a good weekend.

Personal Memories of Reunion 2005

by Lorne Bowerman (Course #10/1949)

Hats off to the organizers who worked hard to put on Milfoto Reunion 2005 at CFB Trenton on September 16, 17, and 18, 2005. Well done!

It was great to see old friends and meet new ones.

And it was great as well to go over the old photos on the wall of the Astra Lounge. What memories! How many times did we say - "I wonder what happened to ...".

For some it started Friday morning at 0900 with a round of golf. The light rain did not deter the 32 golfers from having a good time.

For most, however, it started off Friday at 1500 with a meet and greet at the Astra Lounge. It was wall to wall with people and ceiling to floor with conversations - just what you would expect with 325 attending. Some looked just like they did years ago; some looked a touch heavier, no doubt from being "mature" now; and a few showed the effects of the tough health battles they had had. But we were there. Lasagna, chicken wings, rice, meat balls were the fare of the day, along with, of course, cake, and yummy squares.

On Saturday, the morning was devoted to a tour of the Wing Imaging Section, which for me was the highlight of the day. It blows your mind to see the equipment in use. They are all digital although they still have one Hasselblad fitted with a digital back. There is a large computer at each work station. Miniature storage disks from the cameras are put into a computer drive and the images downloaded. They store the image twice; once in RAW and then once in JPEG. They shoot at the highest possible resolution. After sorting, entering captions, and checking the details, the images are transferred to a CD ROM. Printing is done from the images with large colour printers. As well there is a Video room where the recordings are edited and printed into whatever format is required. In the back there is a room for wet chemistry, however it does not look too used. I saw lots of good work. I saw the pride of workmanship is still as strong as it was years ago. The person behind the lens is still the most important part of the entire process whether he or she is called a photographer, photo tech, recce tech, or image tech.

After the Wing Imaging Section, it was over to Bakers Island for a lunch featuring "foot long" sausages, hamburgs, salads, relish trays, and of course those sweet yummy things. Some great music was provided by an ensemble of military musicians.

On Saturday afternoon we had a tour of the RCAF Museum where the old 6 RD used to be. A good museum with lots of old things gathered together to show the past. In the Air Park beside the museum a number of aircraft are on display.

Back to more food for Saturday night at the Astra Lounge. After an elbow-to-elbow meet and greet, we sat down at 1900 for the dinner. It started with Greek salad and a roll, then the Consommé julien came, and that has not changed in taste in 50 years. It took a while to serve the 290 and gather up the dishes. That should have indicated that it was going to be a long evening, but most of us did not clue in to that. A really great salmon wrapped around a shrimp filling with a dill sauce came next. We were ready for the main course now, but it was not to be. We had to clean our palates with a lime sorbet. Finally just before 2200 the Prime Rib, Yorkshire pudding, gravy, mashed potatoes, baby carrots, and broccoli arrived. Dessert was a chocolate basket filled with melon balls and the meal ended just before 2300 with coffee and tea. For some older folks, that was the end. But for many, we made room to have the tables cleared and the dance started.. By 0100, it was reported that only the professional party goers were left. A long evening, but very enjoyable nevertheless.

We had no pre-WW II this time. We had two men from the 1941, three women from 1943, and two women from 1944. There were a lot from the 1945 to 1949 period who were recruited and trained to do Photo Canada. The decades from 1950 to 1999 were just about equally represented. One Image Tech from 2004 was there. Think about that! We had people from their early twenties to their late eighties spanning 60 years who are proud to stand and show they are part of a unique family of military photographers. The collective talent in that room shaped the direction of military photography for over one-half of a century. And the pride is still there.

Sunday was a much tamer affair with brunch starting at 1000 and going on to 1300. As you would expect, scrambled eggs, sausages, bacon, hash brown, pancakes, french toast, fruit trays, bagels, toast, jams, and yogurts were offered in as much as you could eat quantities. Most of us were still stuffed from the night before so we ate quite lightly. Fond farewells finished the day and the reunion.

---
National and World Wide Links
This site may provide links to other World Wide Web sites or resources. Because we have no control over such sites and resources, we do not endorse and are not responsible or liable for any content, advertising, products, or other materials on or available from such sites or resources.

Milfoto Reunion
Ontario Government Information
Quebec Information
Ottawa Tourism & Business
Quinte West Tourism
Belleville Tourism
Bay of Quinte Tourism

---
Contacts
The list of contacts for this site is currently being developed. In the meantime, Lorne Bowerman at lorne@bowerman.ca will direct any requests to the CMPA executive.

---
Webworkers
(Email addresses are in text to block spam gathering robots.)
Webmaster: Lorne Bowerman lorne at bowerman dot ca
Events: Volunteer Needed volunteer@somewhere.ca